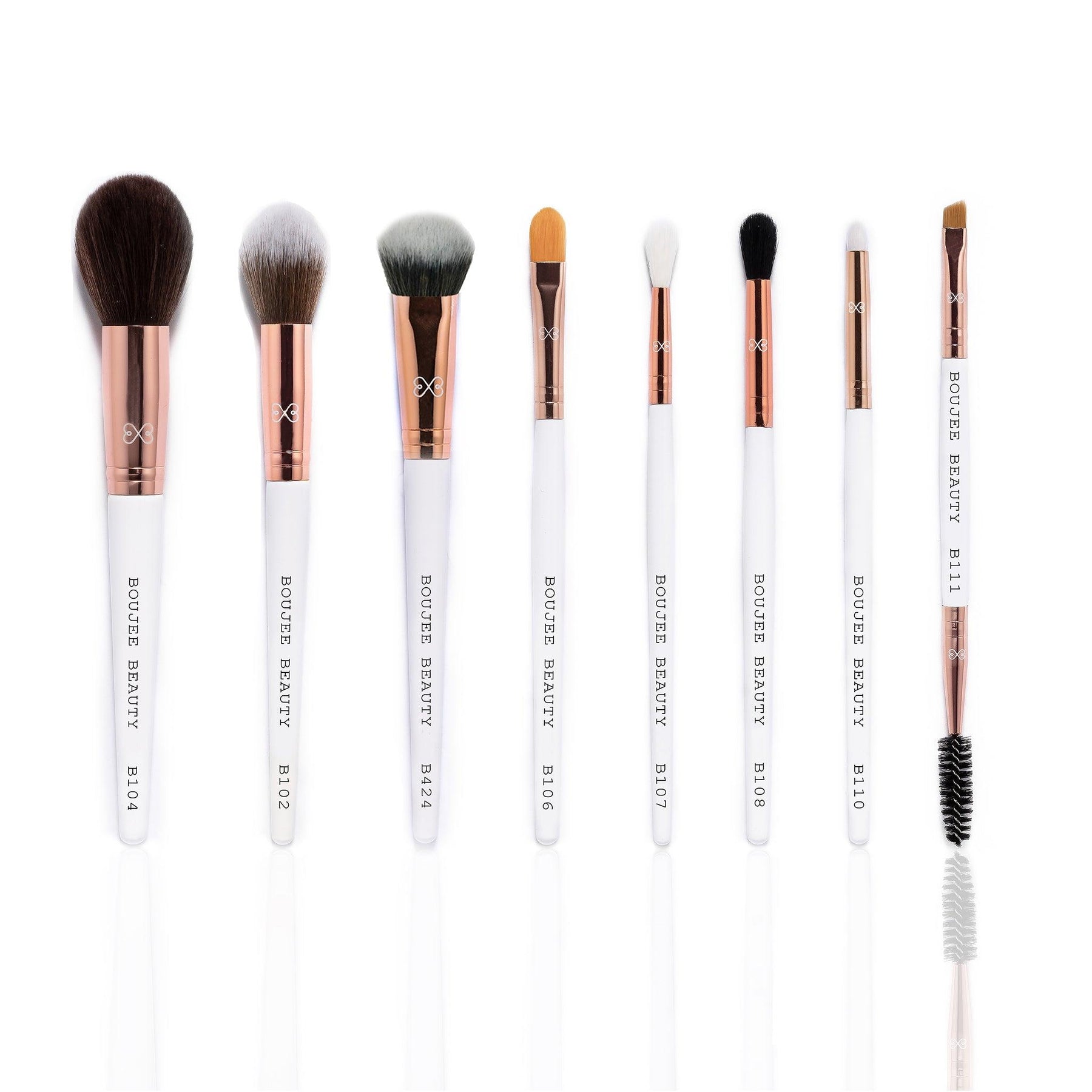 8Pcs Makeup Brush Set
Consists of 3 Face and 5 Eye Makeup Brushes
In stock
Introducing our 8-Piece Makeup Brush Set - the ultimate beauty tool collection for achieving flawless face and eye makeup looks. This carefully curated makeup brush set includes 3 essential face makeup brushes and 5 versatile eye makeup brushes, each designed to elevate your makeup game to the next level.
Why this Brush Set?
It consists of 3 face makeup brushes which are 

suitable for foundation, powder, blush application.

It also consists of 5 eye makeup brushes 

which are perfect for all your eye makeup needs.

Essential for the most basic make-up looks, and thus offer easy applicability to make-up artists and beginners alike.
All our brushes are Vegan, 100% Cruelty-Free, Super-Soft, Multitasking and Durable

Brushes Included:
  B102 - Powder Brush
  B104 - Blush Brush
  B106 - Flat Shader Concealer Brush
  B107 - Big Blending Brush
  B108 - Tapered Blending Brush
  B110 - Small Pencil Brush
  B111 - Dual Ended Brow Brush
  B424 - Angled Buffing Brush
*Note: Dimensions of each brush can be found on individual product detail page
In order to make brushes last a long time, kindly follow below tips
Use a mild shampoo/ brush cleansing liquid and silicon pad to clean brushes (avoid harsh chemicals)
Please do not soak brushes in water. If brushes are exposed to water for a long duration, the glue weakens over time and the paint on handles may crack. This will directly affect the longevity of the brush.
For washing brushes, dip the hair in water, put brush cleansing liquid on silicon pad and swirl the brush in round motions, wash off the brush and lay it down on a clean towel. (Avoid keeping wet brushes vertically)
Once dried, store brushes safely in brush holder or a closed container.
All our brushes have 6 months warranty from the date of invoice. Please check the details here: Warranty Policy
Designed By : Boujee Beauty, India
Country Of Origin: PRC