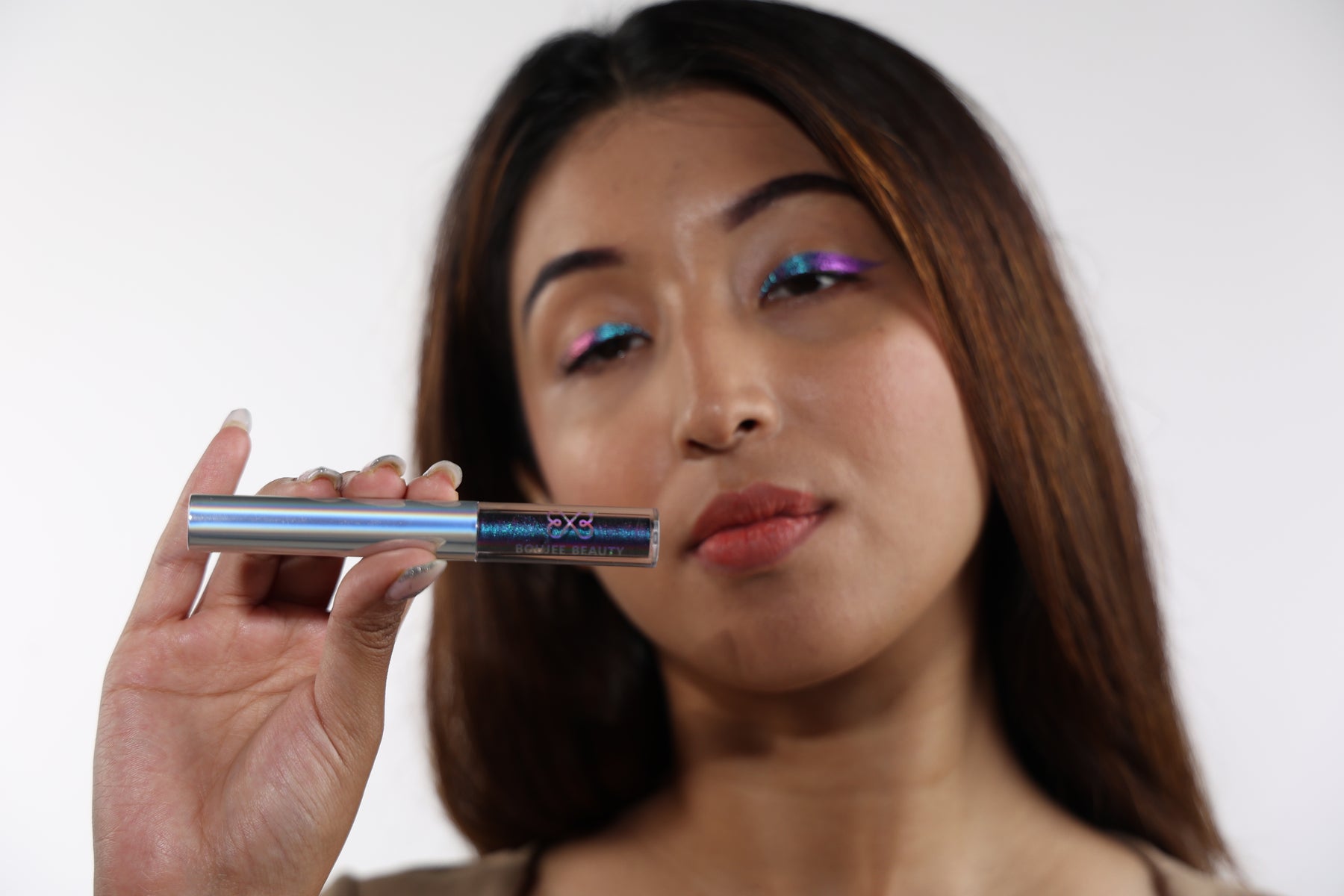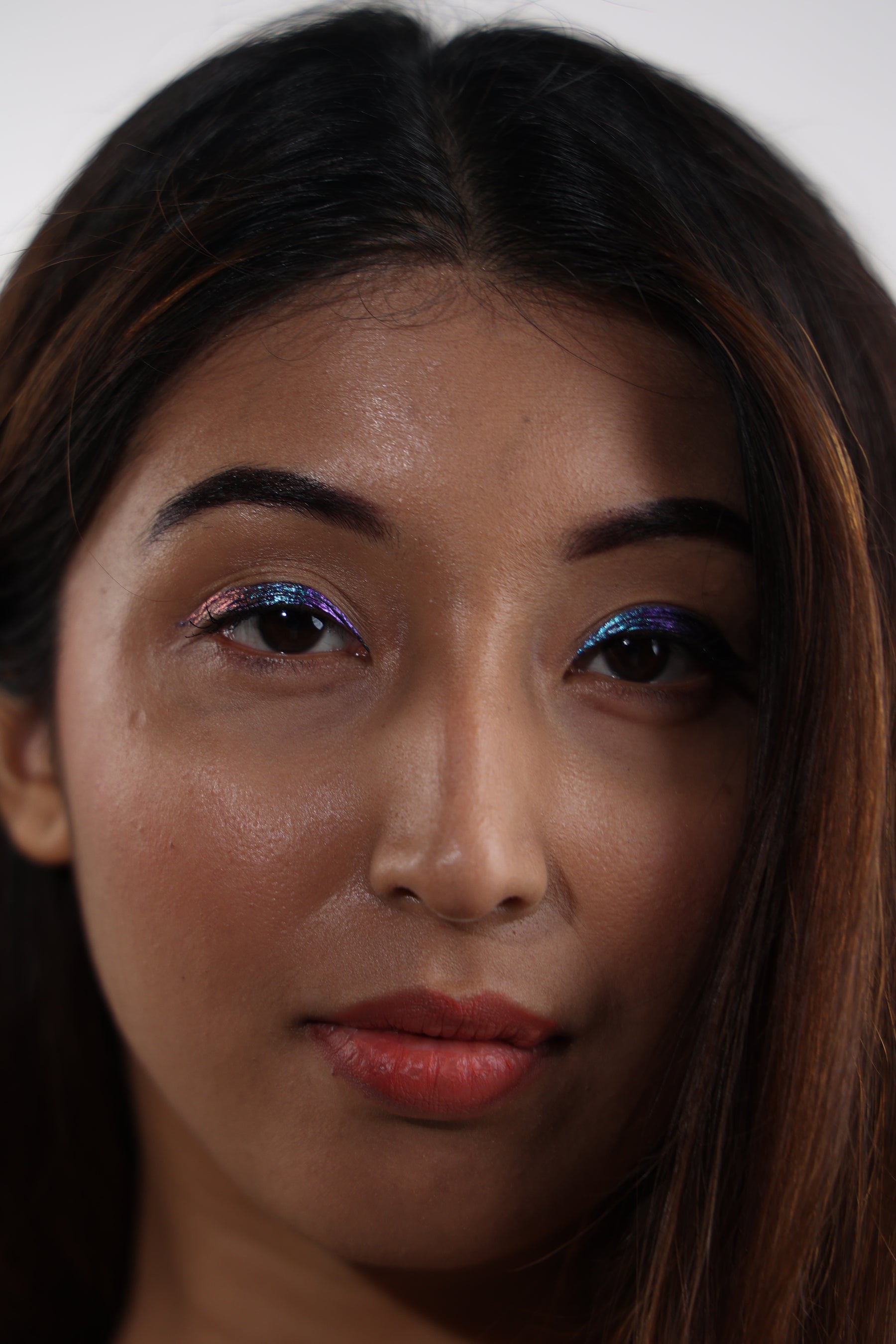 Multichrome Eyeliner - Mermaid
Color Shifting Multi-chrome Eyeliner
Step into a world of enchantment with our fabulous Color Shifting Eyeliners! These beauties aren't just your ordinary eyeliners - they're like magical chameleons for your eyes! Get ready to rock some serious color-shifting action that'll make heads turn!

But wait, there's more! These color-shifting darlings have a secret superpower. They morph effortlessly from one color to another. It's like having a mini rave on your eyelids, adding a burst of vibrant color that'll make your eyes the talk of the town.
Key Features of our Color Shifting Eyeliners:

Easy to use: Effortlessly apply the eyeliner with its inbuilt precise wand.
Long-lasting formula: Enjoy vibrant color that stays put all day without smudging or fading.
Multi-chrome effect: Experience a captivating color transition.
Pop of color: Add a vibrant and eye-catching element to your makeup look.
One for all: Perfect for creating both subtle and bold eye makeup looks.
Suitable for all skill levels: Whether you're a makeup pro or a beginner, you'll find it easy to achieve stunning results.

These eyeliners aren't just makeup, they're pure magic. They'll sprinkle a dash of enchantment onto your everyday look and transform you into a mystical goddess. From subtle daytime vibes to full-blown nighttime glam, these babies have got you covered. Prepare to unleash your inner makeup sorceress and slay those eye-catching looks!

Trust us, these Color Shifting Eyeliners are the real deal. They're like unicorns in a tube, sprinkling sparkles and rainbows onto your lids. So why settle for ordinary when you can embrace the extraordinary? Grab a tube (or two) of our Color Shifting Eyeliners today and get ready to slay the makeup game like never before!
Prepare your eyelids: Start by prepping your eyelids with an eyeshadow primer or a concealer. This step helps create a smooth canvas and enhances the longevity of the eyeliner.

Apply the eyeliner: Hold the eyeliner pen or brush like you would hold a regular eyeliner. Begin by placing the tip at the inner corner of your eye, as close to the lash line as possible. Gently glide the liner along the lash line towards the outer corner. Take your time to achieve a precise line.

Experiment with different angles: Multichrome eyeliners offer a unique effect, showcasing different colors as you change angles. Play around with the angle of the eyeliner to explore the range of colors and create different looks.

Consider contrasting eyeshadows: To complement the multichrome eyeliner, you can opt for contrasting eyeshadows. Neutral shades or colors that harmonize with the predominant hues of the eyeliner can enhance the overall look.

Seal and set: To ensure the longevity of your eyeliner, consider using an eyeshadow primer or setting spray. This step will help prevent smudging and ensure your multichrome eyeliner stays in place throughout the day or night.

Clean up any mistakes: If you make any mistakes while applying the eyeliner, use a cotton swab dipped in makeup remover to gently correct them. Remember to be patient and precise when refining the lines.
Remove the eyeliner: At the end of the day, use a gentle eye makeup remover or a micellar water to thoroughly remove the multichrome eyeliner. It's essential to take care of your eye area and ensure all traces of makeup are removed before bedtime.
Water, Silica, Acrylates copolymer, Butylene glycol, Ammonium acrylates copolymer, Glycerin, Sodium acrylate/sodium acryloyldimethyl taurate copolymer, Phenoxyethanol, Isohexadecane, Peg-240/hdi copolymer bis-decyltetradeceth-20 ether
May Contain: CI 77891, CI 77000
Designed By : Boujee Beauty, India
Country Of Origin: PRC
Gorgeous
Stunning! I love it! It's long lasting, statement making and gorgeous! 100% recommend!
Memerising colour
Indeed an angic colour. I loved texture, application of product. And how beautiful it simply looks post applying
5 Stars - Very Good
I used it in the evening for a dinner event. It POPS!
The application is super simple, it's long lasting, it's very simply removable and it doesn't leave traces behind.
ALSO! Despite having a glitter-ish feel, the greatest factor was that the glitter DOES NOT SMUDGE ALL OVER YOUR FACE! Absolutely loved it. I will definitely order more!
Colour shifting is amazing
Glad you've got chrome eyeliners in India, it is definitely one of a kind. Colour shifting is amazing. Cheers.
Loved loved loved the mermaid eyeliner
Loved loved loved the mermaid eyeliner ❤️