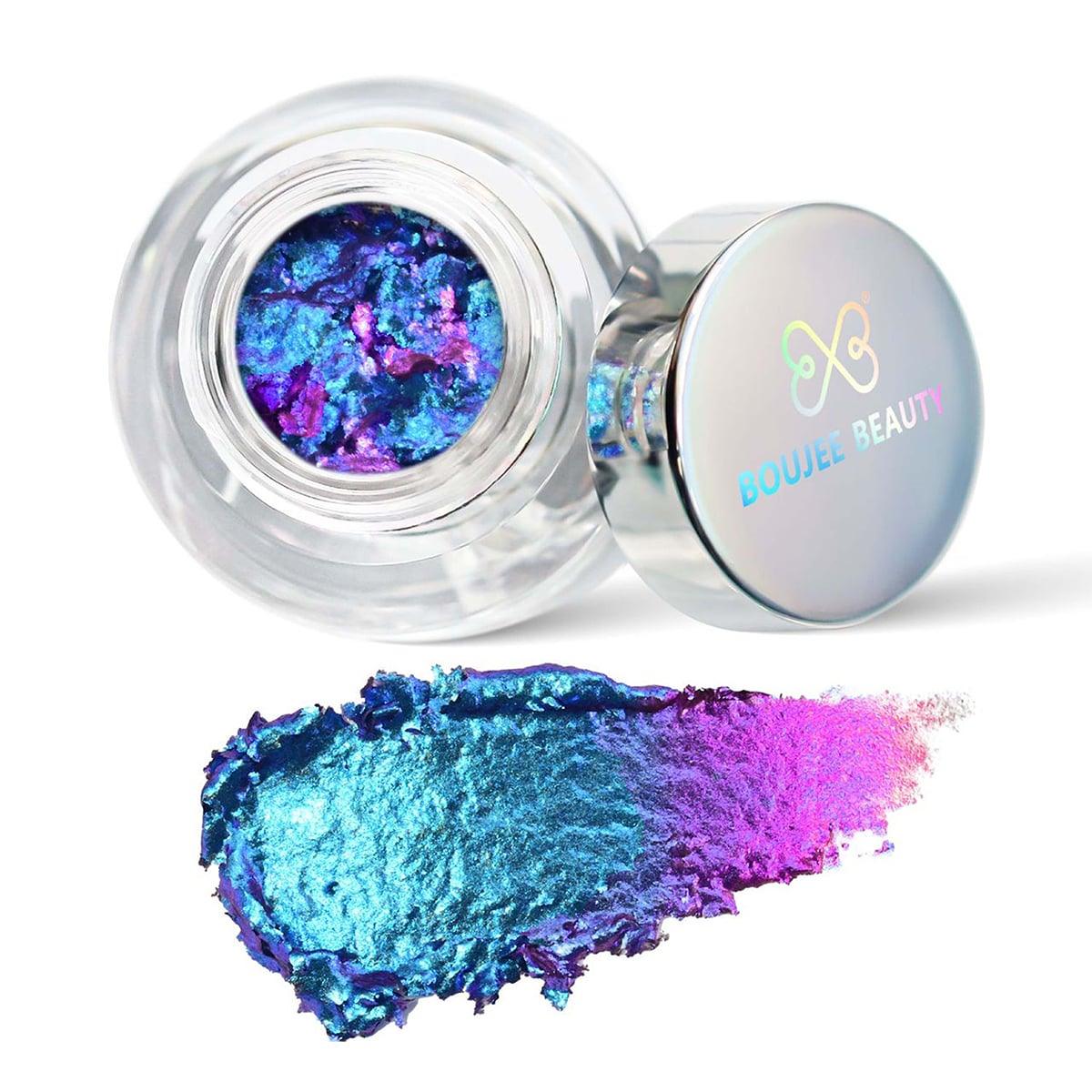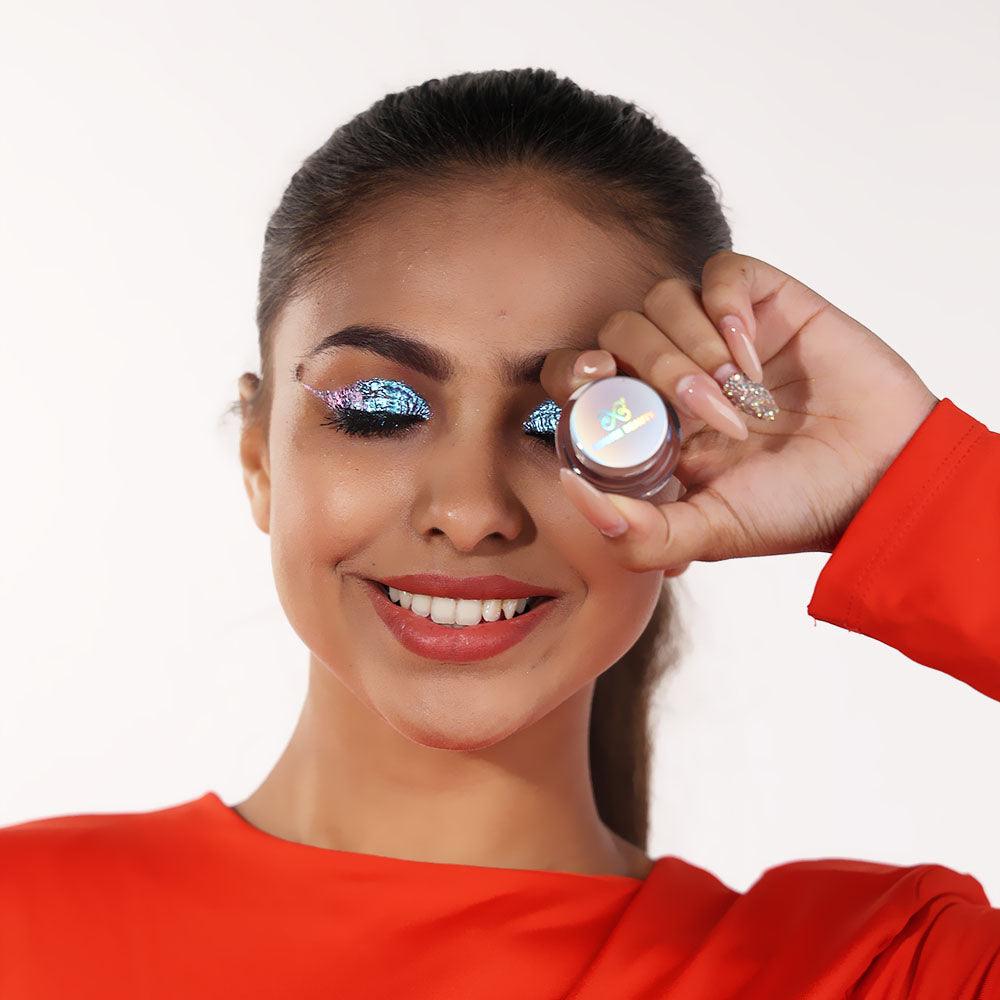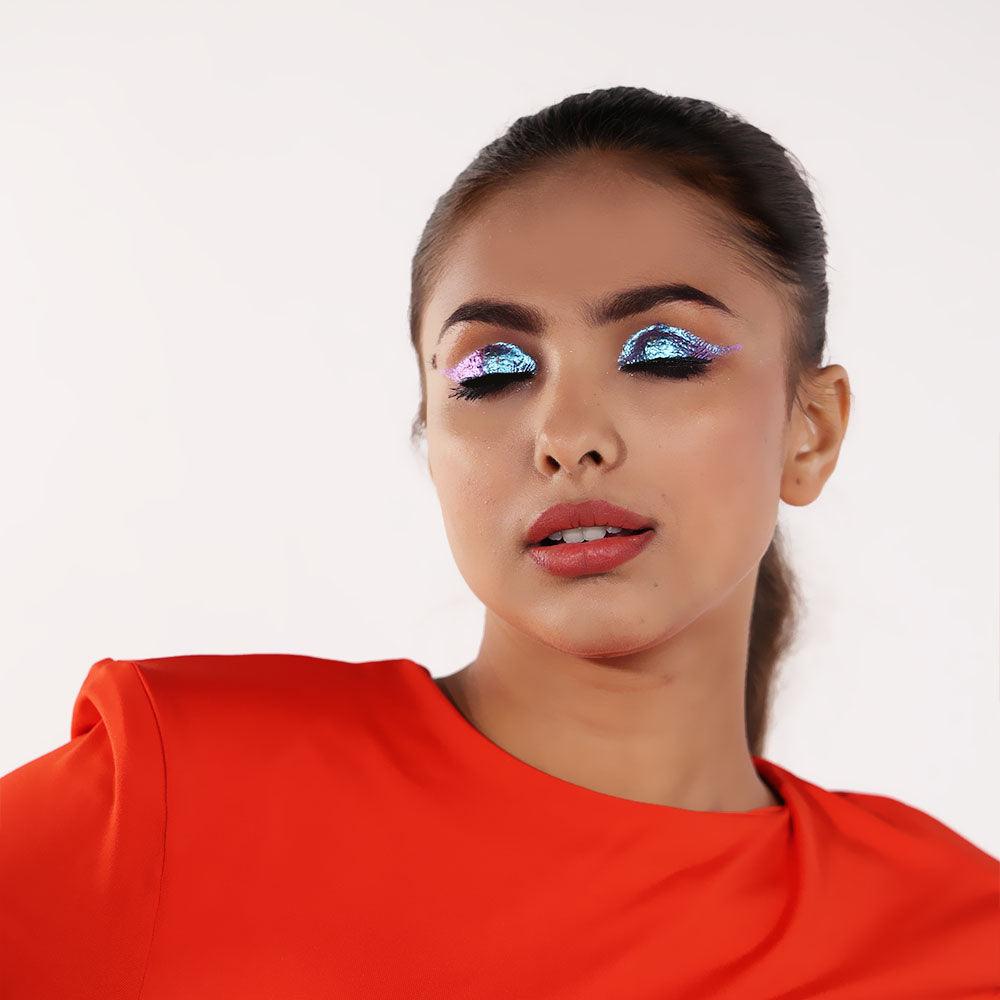 Multichrome Magic Flakes - Evening In Roma
Color Shifting Multi-chrome Magic Flakes
Introducing our Multichrome Magic Flakes, a must-have addition to your makeup collection. With its captivating colors and versatile formula, these flakes are designed to amplify your eye makeup and leave a lasting impression.

Get ready to have some serious fun with your eye makeup, as this little gem is all about playful, vibrant, and dazzling colors.

Imagine a magical party on your eyelids, where colors collide and dance together in a wild frenzy. Our Multichrome Magic Flakes is here to make that dream come true! With its cream formula that's as smooth as unicorn kisses, applying these flakes is pure joy.

Key Features of our Multichrome Magic Flakes:
Mesmerizing Multichrome Effect: Prepare to be dazzled by the shifting colors that create a magical, kaleidoscopic effect on your eyelids.
Creamy and Dreamy: Our creamy formula glides on like butter, making the application a delightfully smooth and seamless experience.
Buildable Coverage: Whether you want a subtle wash of color or an intense pigment explosion, our eyeshadow allows you to build up the coverage to match your desired look.
Eye Makeup Amplifier: Say goodbye to ordinary eye looks! Our Multichrome Magic Flakes takes your makeup game to the next level, adding dimension and depth that will make your eyes pop.
Endless Creativity: Unleash your inner artist and experiment with various styles. Use it as a standalone shade, a stunning topper, or even as an eyeliner for an artistic touch.
Vibrant and Playful Shades: Get ready to have a blast with a range of vibrant and playful colors that add a touch of fun and excitement to your makeup routine.
Eye-Catching Results: Be prepared for all eyes to be on you as you showcase the playful and captivating effect of our Multichrome Magic Flakes.
But wait, there's more! These flakes are like chameleons on your lids, changing colors with every blink and wink. It's like having a mini fireworks show right on your eyes! So get ready to turn heads, steal the spotlight, and make everyone around you go "Wow!"

And guess what? The fun doesn't stop there! Our Multichrome Magic Flakes is buildable, so you can go from a subtle glimmer to a full-on explosion of color. It's like having a paint palette for your eyes, where you're the artist and your eyelids are the canvas!
So, get ready to unleash your creativity, embrace the magic of multichrome, and let your eyes do the talking with our irresistible flakes!
Prepare Your Eyelids: Start with clean, dry eyelids. If desired, apply an eyeshadow primer to ensure longevity and enhance color vibrancy.

Choose Your Shade: Select your favorite Multichrome Magic Flakes shade from our captivating range.

Apply with a Brush: Use a flat synthetic eyeshadow brush to pick up the product. Gently press the brush onto the flakes and tap off any excess. Apply the flakes onto your eyelids using sweeping or patting motions.

Build Up the Intensity: Our Multichrome Magic Flakes is buildable, allowing you to customize the intensity of the color. Apply additional layers to achieve a more vibrant effect.

Blend and Feather: Use a clean blending brush to blend the edges of the flakes for a seamless transition. This helps to create a professional, polished look.

Experiment with Placement: Get creative and experiment with different placement options. Apply the flakes all over the eyelid for a bold look, or focus it on the inner corner or center of the lid to create a captivating highlight.

Layer or Combine: For added dimension, layer the Multichrome Magic Flakes over other eyeshadows. Play with different color combinations to create unique and eye-catching looks.

Complete Your Eye Makeup: Finish off your eye makeup look with mascara, eyeliner, and any other desired eye products.

Enjoy the Magic: Step back, admire your stunning eye makeup, and get ready to embrace the enchanting multichrome effect of your Multichrome Magic Flakes. Let your eyes steal the show!

Remember, practice makes perfect! Experiment with different techniques, color combinations, and application styles to find your favorite way to rock the Multichrome Magic Flakes. Have fun and unleash your creativity!
Prepare Your Removal Tools: Grab a soft, clean makeup remover wipe or a cotton pad. You can also use a gentle eye makeup remover or micellar water if you prefer.
Take a Wipe or Cotton Pad: If using a makeup remover wipe, unfold it and make sure it's moistened with the appropriate product. If using a cotton pad, soak it with a small amount of eye makeup remover or micellar water.
Place and Hold: Gently place the wipe or cotton pad over your closed eyelid, making sure it covers the area where the Multichrome Magic Flakes is applied. Apply slight pressure and hold it in place for a few seconds to allow the product to break down the flakes.
Swipe Away: After a few seconds, swipe the wipe or cotton pad across your eyelid, moving in a gentle downward motion. Ensure you remove all traces of the flakes, but be careful not to rub or tug too harshly.
Repeat if Necessary: If there is still some residue left, repeat steps 3 and 4 until the flakes is completely removed. Take your time and be gentle to avoid any potential irritation.
Cleanse and Moisturize: After removing the flakes, cleanse your face with your regular facial cleanser to eliminate any remaining traces. Rinse your face with lukewarm water and pat it dry. Follow up with your preferred eye cream or moisturizer to keep your skin hydrated and nourished.
That's it! By following these steps, you can effortlessly remove the Multichrome Magic Flakes and prepare your eyelids for a fresh makeup application or a clean, makeup-free look. Enjoy the versatility of our eyeshadow while knowing it's easy to remove whenever you desire.
Ingredients: Water-Butylene Glycol Acrylates Copolymer:
Carbomer-Peg-240HDI Copolymer Bis-Decyltetradeceth-20 Ether-Disteardimonium Hectorite Arginine Phenoxyethanol Caprylyl Glycol -Silica Ethylhexylglycerin-Hexylene Glycol-1,2-Hexanediol
May Contain: Tin Oxide-Synthetic Fluorphlogopite Calcium Aluminun Borosilicate:Aluminum: C1 77891•CI 77491•CI 77492•CI 77499•CI 77820•CI 42090•CI 16035 •CI 19140•CI 77510
Designed By : Boujee Beauty, India
Country Of Origin: PRC